We are the leading
Deaf-Led Charity in the UK!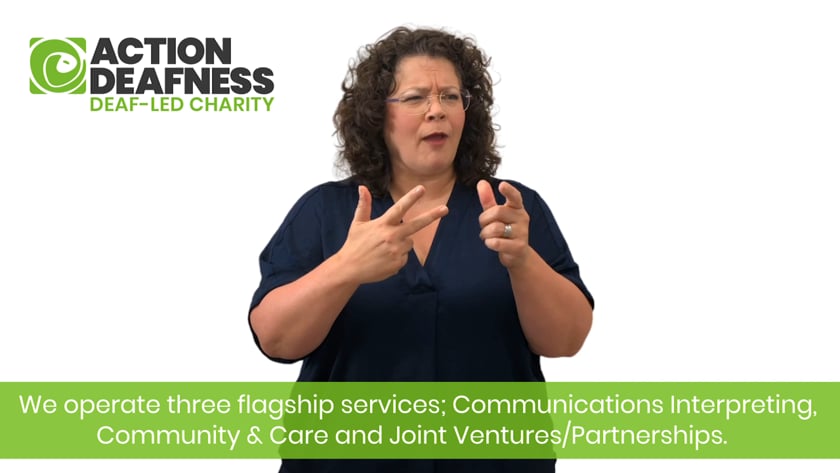 We are Action Deafness! Action Deafness (AD) is the leading Deaf-led Charity in the UK. We deliver high-quality, specialist, value-for-money services so Deaf, deafened, hard of hearing and Deafblind can access their everyday lives. We have a rich history spanning over 120 years. Action Deafness was rebranded and originated from Leicester and Loughborough Deaf & Hard of Hearing Charities, followed by Deaf Direct and Walsall Deaf People's Centre in recent years. Since 2010 we have become more creative, innovative and pioneering to develop an organisation to serve the Deaf community initially in the Midlands now throughout the UK. We have carefully grown the size and breadth of our services to form a sustainable organisation. We have partnered with other like-minded organisations and recently merged with two other Deaf charities to expand our footprint to include Walsall, Oxford, Worcester and Hereford. We operate three flagship services; Communications Interpreting, Community & Care and joint ventures/partnerships. We are excited about further growth and a bright future for D/deaf people. Enjoy surfing our website and our social media channels to find out what we can offer and contact us.
We strive to make

your

lives easier
Read how our services have transformed lives.
"I was new to using interpreters at work so AD made sure I had interpreters when I needed them and that I didn't exceed my ATW budget. Having interpreters for meetings and general office discussions meant I could just get on with my work and after a few months I got a promotion."
"I struggled to follow work meetings when my hearing deteriorated due to old age. I was shown the different types of equipment that I could use at home and at work. The equipment was excellent and I can continue to contribute to my work place with a new lease of life."
"I felt isolated living in a hearing community. Now I have a Personal Assistant who I can sign with. My PA helps me get on with my life as normal and even helps me keep in touch with my son. My PA helped me arrange a meeting with my son, it was really emotional!"
"My local Deaf charity was having problems providing care services to my wife. Action Deafness stepped in to support the charity and brought a completely new way of working. The paper work improved and the managerial support for our carer really made a difference to the care my wife received."
Pseudonyms have been used in these case studies to protect the identity of our clients